Overview
Surgical lengthening of the shorter extremity (upper or lower) is another treatment option. The bone is lengthened by surgically applying an external fixator to the extremity in the operating room. The external fixator, a scaffold-like frame, is connected to the bone with wires, pins or both. A small crack is made in the bone and tension is created by the frame when it is "distracted" by the patient or family member who turns an affixed dial several times daily. The lengthening process begins approximately five to ten days after surgery. The bone may lengthen one millimeter per day, or approximately one inch per month. Lengthening may be slower in adults overall and in a bone that has been previously injured or undergone prior surgery.
Bones
in patients with potential blood vessel abnormalities (i.e., cigarette smokers) may also lengthen more slowly. The external fixator is worn until the bone is strong enough to support the patient safely, approximately three months per inch of lengthening. This may vary, however, due to factors such as age, health, smoking, participation in rehabilitation, etc. Risks of this procedure include infection at the site of wires and pins, stiffness of the adjacent joints and slight over or under correction of the bone?s length. Lengthening requires regular follow up visits to the physician?s office, meticulous hygiene of the pins and wires, diligent adjustment of the frame several times daily and rehabilitation as prescribed by your physician.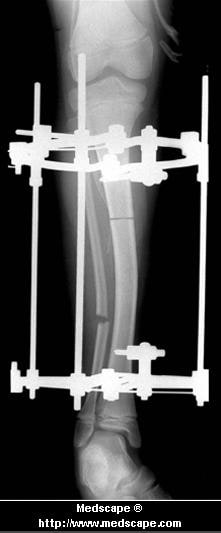 Causes
A number of causes may lead to leg length discrepancy in children. Differences in leg length frequently follow fractures in the lower extremities in children due to over or under stimulation of the growth plates in the broken leg. Leg length discrepancy may also be caused by a congenital abnormality associated with a condition called hemihypertrophy. Or it may result from neuromuscular diseases such as polio and cerebral palsy. Many times, no cause can be identified. A small leg length discrepancy of a quarter of an inch or less is quite common in the general population and of no clinical significance. Larger leg length discrepancies become more significant. The long-term consequences of a short leg may include
knee
pain, back pain, and abnormal gait or limp.
Symptoms
The effects of a short leg depend upon the individual and the extent of discrepancy. The most common manifestation if a lateral deviation of the lumbar spine toward the short side with compensatory curves up the spine that can extend into the neck and even impacts the TMJ. Studies have shown that anterior and posterior curve abnormalities also can result.
Diagnosis
On standing examination one iliac crest may be higher/lower than the other. However a physiotherapist, osteopath or chiropractor will examine the LLD in prone or supine position and measure it, confirming the diagnosis of structural (or functional) LLD. The LLD should be measured using
bony
fixed points.
X-Ray
should be taken in a standing position. The osteopath, physiotherapist or chiropractor will look at femoral head & acetabulum,
knee
joints, ankle joints.
Non Surgical Treatment
In some circumstances, the physician will recommend a non-surgical form of treatment. Non-surgical treatments include orthotics and prosthetics. Orthotics are a special type of lift placed in or on a shoe that can be used in the treatment of leg length discrepancies between two and six centimeters. In pediatric patients who have large discrepancies and are not good candidates for other treatment forms, prosthetics can be helpful.
how to increase height in 1 week
Surgical Treatment
Lengthening is usually done by corticotomy and gradual distraction. This technique can result in lengthenings of 25% or more, but typically lengthening of 15%, or about 6 cm, is recommended. The limits of lengthening depend on patient tolerance,
bony
consolidation, maintenance of range of motion, and stability of the joints above and below the lengthened limb. Numerous fixation devices are available, such as the ring fixator with fine wires, monolateral fixator with half pins, or a hybrid frame. The choice of fixation device depends on the desired goal. A monolateral device is easier to apply and better tolerated by the patient. The disadvantages of monolateral fixation devices include the limitation of the degree of angular correction that can concurrently be obtained; the cantilever effect on the pins, which may result in angular deformity, especially when lengthening the femur in large patients; and the difficulty in making adjustments without placing new pins. Monolateral fixators appear to have a similar success rate as circular fixators, especially with more modest lengthenings (20%).